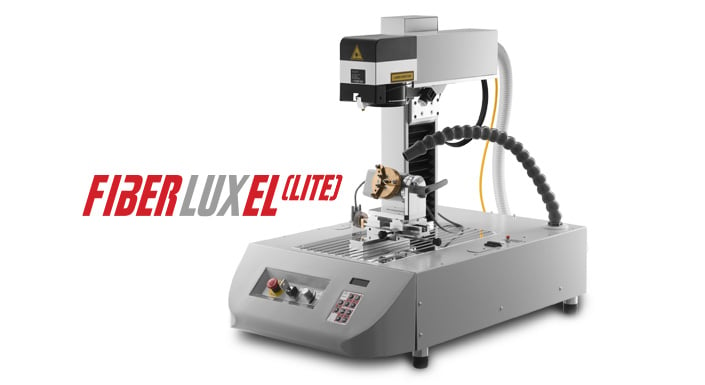 Engravings, excavations and cuts also for those looking for the first time in the laser machine world, with FiberLUX EL Lite
Derived from the PRO serie, EL line import all the advanced features of the FiberLUX, as well as the closing chamber, the motorized Z-axis and the possibility to install the drag-clamp system for multiple cutting jobs. In the meantime, the machine using and the software are simply and easy for any users.
Equipped with a user-friendly but complete software, the EL offers all the functions necessary to the operator to work in a complete professionality environment. We can affirm that EL line is the right compromise between the NANO line and the FibeLUX PRO.
Elettrolaser offers a new high performant product on the market, at a very competitive price; perfect solution both for the small/medium laboratory and for who enter for the first time in the marking process world.
FIBERLUX EL 20
FIBERLUX EL 30
FIBERLUX EL 50
OUTPUT POWER
20 W
30 W
50 W
WAVE LENGHT
1064 nm
M2
< 1,8
POWER SUPPLY
230 V 50/60 Hz opt. 110 V on request
ABSORBED POWER
250 W
350 W
350 W
WORKING SPACE DIMENSION (LXDXH)
250x250x350 mm
WEIGHT
55 kg
55 kg
55 kg
FOCAL 100: MARKING AREA / SPOT
60x60 mm / 16 um
FOCAL 160: MARKING AREA / SPOT
110x110 / 26 um
SPEED OF GALVO HEAD
5000 mm/s
5000 mm/s
7000 mm/s
MAX PULSE ENERGY
up to 1 mJ
MAX FREQUENCY
60 KHz
60 KHz
100 KHz
COOLING SYSTEM
air cooled
PULSE DURATION
100 ns at 20 kHz
100 ns at 20 kHz
120 ns at 20 kHz
LASER CLASS/MACHINE CLASS
IV / I (no for lite version)