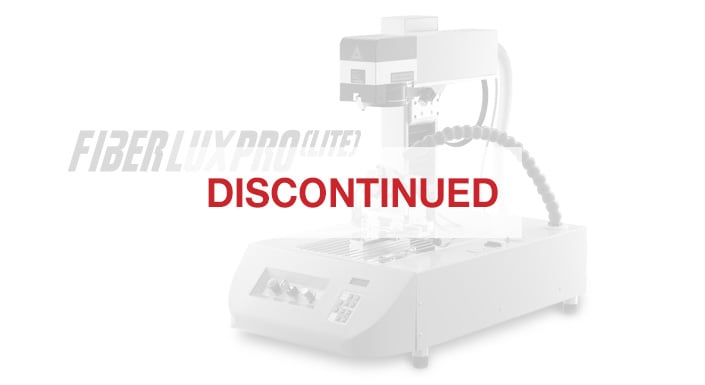 The 'Lite' version is derived from the FiberLUX PRO series and is undoubtedly the finest laser for cutting and marking, thanks to the use of ytterbium-doped fiber optics with low environmental impact and low maintenance (up to 50,000 hours of operation).
Even more suitable for possible integration on production lines and /or process systems, FiberLUX PRO Lite can be used to mark objects of any metal, engrave photographs, logos, trademarks and texts with a maximum dimension of the marking area of 180x180 mm and with resolutions of up to 20 μm.
The machine is small, with a fully accessible working chamber thanks to the absence of hatches.
Today, the FiberLUX PRO Lite family offers a range of powers from 20 W to 100 W to cover all your production needs.
Equipped with a motor-driven Z-axis with resolution of movement up to 0.01 mm, and an innovative, user-friendly focus system with overlapping pointers, it can also be equipped with a videocam inside the laser chamber, for optimization of processing or possible remote assistance.
FiberLUX PRO Lite is supplied complete with software capable of importing files from the most well-known computer-design programs currently in existence (svg, dxf, bmp, plt, jpg, dwg, etc.), and also with specific cutting software Made by ElettroLaser.
Every machine can be supplied with a range of optionals such as: high precision rotating axis system, electro-pneumatic plate driver, exhaust fan, clamp for blocking pieces, movable in the X and Y axes, and a system of pneumatic hatch opening.
FIBERLUX 20
FIBERLUX 30
FIBERLUX 50
FIBERLUX 70
FIBERLUX 100
OUTPUT POWER
20 W
30 W
50 W
70 W
100 W
WAVE LENGHT
1064 nm
ACCURACY
12 uRad
POWER SUPPLY
230 V 50/60 Hz
ABSORBED POWER
300 W
300 W
300 W
450 W
450 W
MACHINE DIMENSIONS (LXDXH)
450x750x670 mm
WORKING SPACE DIMENSION (LXDXH)
250x250x350 mm
WEIGHT
55 kg
55 kg
55 kg
60 kg
60 kg
FOCAL 100:
MARKING AREA / SPOT
60x60 mm / 11 um
FOCAL 160:
MARKING AREA / SPOT
110x110 mm / 26 um
FOCAL 210:
MARKING AREA / SPOT
160x160 mm / 34 um
SPEED OF GALVO HEAD
up to 7000 m/s
MAX PULSE ENERGY
up to 1,5 mJ
MAX FREQUENCY
1000 KHz
COOLING SYSTEM
air cooled
PULSE DURATION
10 to 200 ms
LASER CLASS
IV
LITE VERSION AVAILABLE
yes
yes
no
no
no