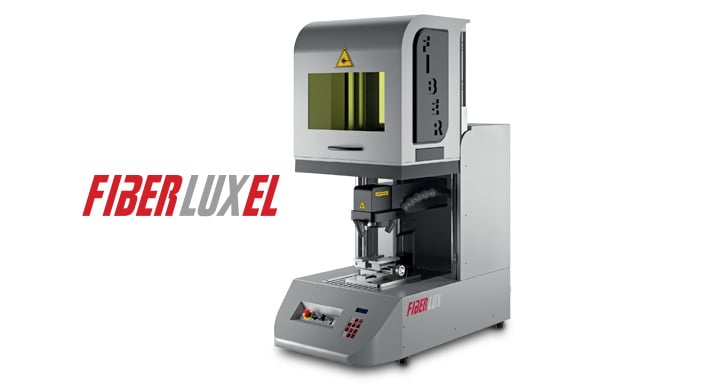 Engravings, excavations and laser cuts at a truly competitive price, with FiberLUX EL
Engraving and laser cutting on metals represents advantages in terms of speed, precision and accuracy of execution. This type of marking has spread to many sectors, from the mechanical industry, electronics to the jewelery and silver industry, and so on.
With the
FiberLUX EL

series, Elettrolaser responds to a growing demand, providing an ideal machine for the shops and small/medium productions.

The EL line integrated import all the advanced features of the FiberLUX, as well as the closing chamber, the motorized Z-axis and the possibility to install the drag-clamp system for multiple cutting jobs. In the meantime, the machine using and the software are simply and easy for any users.

It allows to engrave objects of any metal (gold, silver, steel etc.), in particular logos, brands, photo-engraving, texts, graphic designs and, using the high precision rotary axis system, the inside and the outside of rings (this one provided as an accessory). With a maximum marking area of 160x160 mm and with resolutions up to 20 μm.
POWERS AND MAIN FEATURES
20 W
30 W
50 W
It is equipped with the innovative "user-friendly" focusing system with overlapping pointers, through the manual adjustment of the "Z" axis, and can be supplied with a camera for the working area, this for an optimization of the processing or for any remote assistance.
FiberLUX EL is supplied complete with SOFTWARE, easy and intuitive, capable of importing files from the most well-known computer-design programs currently in existence (svg, dxf, bmp, plt, jpg, dwg, etc.).
Also available in the SPECIAL VERSION for trademarks with which it is possible to affix the title based on the new reference protocol for the laser marking of precious metals and proceed to electronic punching through a simple USB token.
X & Y clamp, for fixing and positioning the pieces;
Rotary axis system (for engraving inside and outside the rings and more);
Internal camera;
Automatic drag & clam (for production in series);
Dust aspirator, to optimize the cleaning of the machine and the work area (available in 2 models, one ideal for small production and one ideal for intensive production);
WHY CHOOSING THE FIBERLUX EL
The EL series is the right compromise between the NANO and the PRO line but compared to the NANO it is a more performing product thanks to the autofocus at a really competitive price. Ideal for both small and medium production.
FIBERLUX EL 20
FIBERLUX EL 30
FIBERLUX EL 50
OUTPUT POWER
20 W
30 W
50 W
WAVE LENGHT
1064 nm
M2
< 1,8
POWER SUPPLY
230 V 50/60 Hz (opt. 110 on request) - 1 kW
WORKING SPACE DIMENSION (LXDXH)
250x250x350 mm
WEIGHT
55 kg
55 kg
55 kg
FOCAL 100: MARKING AREA / SPOT
60x60 mm / 16 um
FOCAL 160: MARKING AREA / SPOT
110x110 / 26 um
SPEED OF GALVO HEAD
5000 mm/s
5000 mm/s
7000 mm/s
MAX PULSE ENERGY
up to 1 mJ
MAX FREQUENCY
60 KHz
60 KHz
100 KHz
COOLING SYSTEM
air cooled
PULSE DURATION
100 ns at 20 kHz
100 ns at 20 kHz
120 ns at 20 kHz
LASER CLASS/MACHINE CLASS
IV / I (no for lite version)
LITE VERSION AVAILABLE
Yes