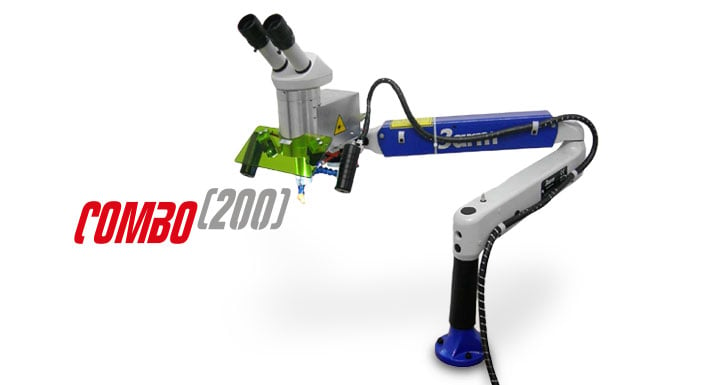 High work cycles and great reliability in the repair of molds, with this laser machine Combo 200
The Combo 200 was developed in cooperation between Elettrolaser and several mechanical workshops engaged in the construction of dies for plastic injection.
The need to repair worn dies rapidly and economically directly in its workshop prompted Elettrolaser to design a
simple, high performing tool

capable of working even on large dies (1000x1000 mm).

The laser is conveyed by the generator to the fiber optic emitter, supported by a mechanical arm that moves at weightlessly so that the operator can position it manually and guide it with extreme ease along the edges to be repaired.

The high power is adjustable from 0 to 200 Joules, so that wire filler even 1 mm in diameter can be used, and in the same amount of time at low power, to finish very small zones on very large, expensive dies.

The electronic and optical components are, as for every Elettrolaser machine, of the highest quality and guarantee a long life cycle, excellent visual quality and reliability.
| | |
| --- | --- |
| | COMBO 200 |
| LASER SOURCE AND WAVE LENGTH | Nd: YAG 1064 nm X2 |
| AVERAGE POWER | 150 W |
| PEAK POWER | 15 kW |
| ENERGY | 0,1 to 200 J |
| IMPULSE TIME | 0,1 to 20 ms |
| PULSE FREQUENCY | 0,5 to 30 Hz |
| SPOT DIAMETER | 0,6 to 2,0 mm |
| SPOT SETTING | Motorized, 15 positions |
| WAVE PROGRAMS | Pulse Shaping 6 preset |
| MEMORIES CELL STORED | 100 |
| CONTROL JOYSTICK | On Board |
| EXTERNAL CONTROL | Color Touch Screen |
| INPUT POWER | 230 V AC, 50/60 Hz, single phase |
| AMPERE | 20 A |
| MAX DIMENSIONS [WXDXH] | 50x50x80 cm |
| MAX EXTENSION MANUAL ARM | 1200 mm |
| WEIGHT | 150 kg |
| TYPE | Floor standing |
| ARGON / AIR NOZZLE | Yes / Yes |