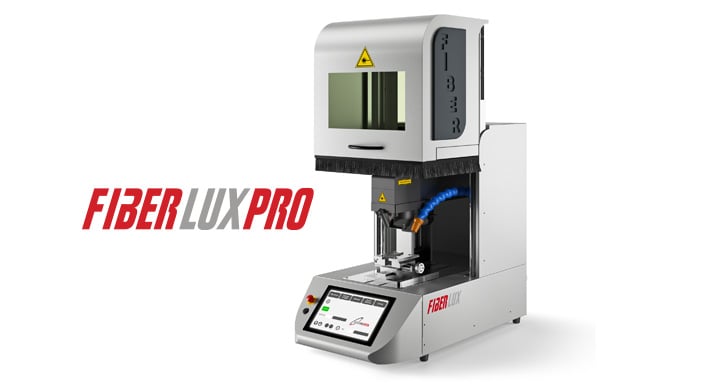 Laser marking and engraving on jewelry and precious metals with FiberLUX PRO
Our commitment to improving and studying Laser technology has allowed us to put on the market one of the best
engraving and laser cutting

machine.

The FiberLUX PRO, is the top of the Elettrolaser range in terms of processing quality, speed and cutting force. It integrates all the advanced features of the FiberLUX line, offering today a range of powers, from 20 W to 100 W, able to cover all production and industrial needs, even the most intense, from the gold industry to the modern industrial sector.

It allows to engrave objects of any metal (gold, silver, steel etc.), in particular logos, brands, photo-engraving, texts, graphic designs, 3D bas-reliefs and, using the high precision rotary axis system, the inside and the outside of rings (this one provided as an accessory).
With a maximum marking area of 160x160 mm and with resolutions up to 20 μm.
POWERS AND MAIN FEATURES
20 W
30 W
50 W
70 W
100 W
It is equipped with the innovative "user-friendly" focusing system with overlapping pointers, through the motorized adjustment of the "Z" axis, moreover with this model you have the possibility to install the "automatic drag and clamp" and a camera inside the Laser chamber for the working area, this for an optimization of the processing or for any remote assistance.
This version also features a novelty, the dual management of the machine via PC and the touch screen console on the front, which allows the use of the marker without the use of the computer.
The machine is supplied complete with SOFTWARE, easy and intuitive, capable of importing files from the most well-known computer-design programs currently in existence (svg, dxf, bmp, plt, jpg, dwg, etc.).
The PRO line is provided with included the software for trademarks with which it is possible to affix the title based on the new reference protocol for the laser marking of precious metals and proceed to electronic punching through a simple USB token.
X & Y clamp, for fixing and positioning the pieces;
Rotary axis system (for engraving inside and outside the rings and more);
Internal camera;
Automatic drag & clam (for production in series);
Dust aspirator, to optimize the cleaning of the machine and the work area (available in 2 models, one ideal for small production and one ideal for intensive production);
NEWS 2019:

The new advanced

auto-detection system

of the parts to be marked can be integrated as an option. Thanks to an advanced multidimensional scanner, the exact positions of the pieces will be acquired in the space, allowing the marking software to realize the work without the necessary orientation of the same in the working area.
WHY CHOOSING THE FIBERLUX PRO
The PRO series is the top of the Elettrolaser range and it offers the best quality in terms of engraving and cutting.
The wide choice of powers allows to cover the most varied needs in terms of production (even the most intensive ones), thanks also to the touch screen on the front, the machine's usability is better, reducing execution times.
FIBERLUX PRO 20
FIBERLUX PRO 30
FIBERLUX PRO 50
FIBERLUX PRO 70
FIBERLUX PRO 100
OUTPUT POWER
20 W
30 W
50 W
70 W
100 W
WAVE LENGHT
1064 nm
M2
< 1,6
POWER SUPPLY
230 V 50/60 Hz (opt. 110 on request) - 1 kW
WORKING SPACE DIMENSION (LXDXH)
250x250x350 mm
WEIGHT
55 kg
55 kg
55 kg
60 kg
60 kg
FOCAL 100: MARKING AREA / SPOT
60x60 mm / 11 um
FOCAL 160: MARKING AREA / SPOT
110x110 mm / 26 um
FOCAL 210: MARKING AREA / SPOT
160x160 mm / 34 um
SPEED OF GALVO HEAD
up to 7000 m/s
MAX PULSE ENERGY
up to 1,5 mJ
MAX FREQUENCY
1000 KHz
COOLING SYSTEM
air cooled
PULSE DURATION
10 to 200 ns
LASER CLASS
IV / I (no for lite version)