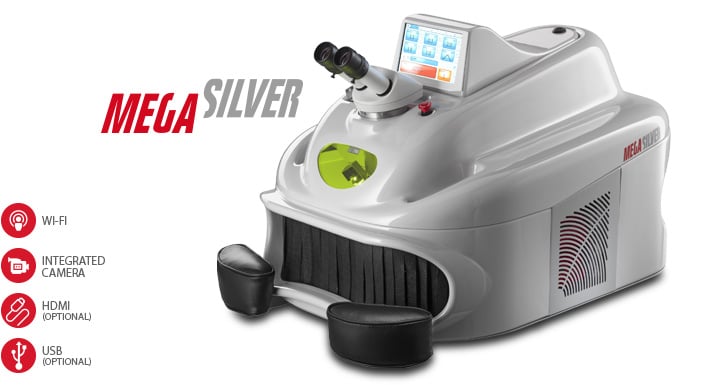 The perfect laser solution for a better surface finish of the weld is called Mega Silver
Evolution of the MegaHIT, the new Mega Silver inherits all the best features of this family, such as the wide welding chamber and double cooling system.
The real innovation in this machine is the new cavity which, inserted in the innovative Elettrolaser resonator, allows the generation of a special laser beam, qualitatively superior to any other lasers present on the market. Thanks to this laser beam, the shot becomes homogeneous and the energy is successfully distributed throughout the affected area, improving the weld penetration into the workpiece. This allows easier distribution of the filler material and a better surface finishing of the welding.
Despite it has been designed primarily for silver or highly reflective materials, actually the Mega Silver is optimal for any use. Welding on gold, palladium, steel, titanium and other alloys, will look very different.
Available with energies of 150 and 180 Joules is indicated both for small goldsmith laboratories and for the industry.
MEGA SILVER 150
MEGA SILVER 180
LASER SOURCE AND WAVE LENGTH
Nd: YAG 1064 nm
AVERAGE POWER
100 W
PEAK POWER
7,5 kW
9 kW
ENERGY
150 J
180 J
IMPULSE TIME
0,1 to 20 ms
PULSE FREQUENCY
0,5 to 30 Hz
SPOT DIAMETER
0,3 to 2,0 mm
SPOT SETTING
Motorized, 30 positions
WAVE PROGRAMS
Pulse Shaping 6 preset
MEMORIES CELL STORED
100
INTERNAL CHAMBER CONTROL
Joystick
EXTERNAL CONTROL
7'' Color Touch Screen
INPUT POWER
230 V AC, 50/60 Hz
AMPERE
10 A
TYPE
Desktop