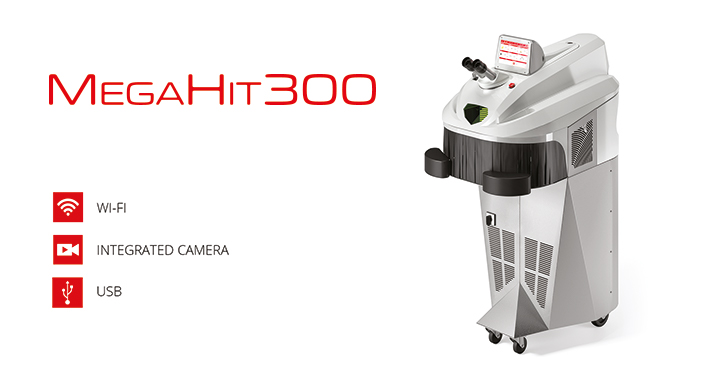 MegaHIT 300, designed for the laser welding of precious metals, especially silver
The machine was developed mainly for industrial applications and factories working with precious metals and is equipped with
double in-line resonator

that enables it to achieve an output of 300 J of

effective

energy!

In fact, thanks to the double in-line laser bar, together with an enhanced capacitor bank, it allows to deliver greater power than the standard and guarantees greater ease in welding reflective materials such as silver.

The new cooling system, entirely designed by Elettrolaser, integrated into the pedestal, guarantees intensive use of the machine. It is also equipped with a large welding chamber and a steel structure that offers greater flexibility in the industrial field thanks to the lower opening of the welding chamber, this detail is very useful for bulky and large pieces.
| | |
| --- | --- |
| | MegaHIT 300 / MegaHIT 300 3D |
| LASER SOURCE AND WAVE LENGTH | 2xNd:Ce: YAG 1064 nm |
| AVERAGE POWER | 300 w |
| PEAK POWER | 15 kw |
| ENERGY | 300 J |
| IMPULSE TIME | 0,1 to 20 ms |
| PULSE FREQUENCY | 0,5 to 50 Hz |
| SPOT DIAMETER | 0,2 ÷ 2,0 mm (0.1 opt.) |
| SPOT SETTING | Motorized |
| WAVE PROGRAMS | Pulse Shaping 6 preset |
| MEMORIES CELL STORED | 100 |
| INTERNAL CHAMBER CONTROL | Joystick |
| EXTERNAL CONTROL | 7'' Color Touch Screen |
| POWER SUPPLY | 230 V AC, 50/60 Hz (110 ON REQUEST) - 4,4 kW |
| TYPE | Pedestal |
| ARGON NOZZLE | Yes |