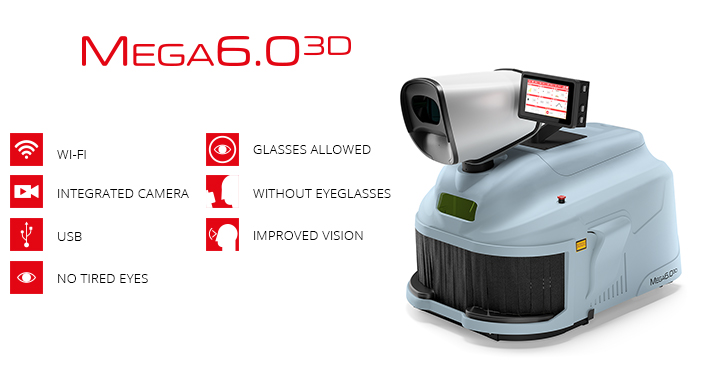 The laser welder for a better finish, with the new 3D Vision system
This version of the Mega 6.0 without ocular, but with the 3D Vision stereomicroscope guarantees greater ease of use with less eye stress and a comfortable body position.
The Mega 6.0 3D, as evolution of the Mega Silver 3D, inherits all the best features, such as the larger welding chamber and the double cooling system.
With the 3D viewer, the welding machine allows:
Wide view of the work area (real 3D images);
Freedom of movement of the head and eyes;
To weld with glasses;
To work on several welding shifts, decreasing eye tiredness;
Save time in operator change (no need to adapt the ocular to your own interpupillary distance);
Much more...
The most significant novelty of this model is the renewed Elettrolaser resonator, it creates a laser beam of higher quality than any other laser on the market. The laser shot becomes more homogeneous and uniform, improving the welding proccess.
The Mega 6.0 3D is the ideal welder for those who have to weld highly reflective materials, such as silver. Obviously all other precious materials and the most common alloys can be worked.
| | |
| --- | --- |
| | MEGA 6.0 3D |
| LASER SOURCE AND WAVE LENGTH | Nd:Ce: YAG 1064 nm |
| AVERAGE POWER | 100 W |
| PEAK POWER | 11 kW |
| ENERGY | 255 J |
| IMPULSE TIME | 0,1 ÷ 25 ms |
| PULSE FREQUENCY | 0,5 ÷ 40 Hz (0.1 opt.) Smooth Spot |
| SPOT DIAMETER | 0,3 ÷ 2,0 mm |
| SPOT SETTING | Motorized |
| WAVE PROGRAMS | Pulse Shaping 6 preset |
| MEMORIES CELL STORED | 100 |
| INTERNAL CHAMBER CONTROL | Joystick |
| EXTERNAL CONTROL | 7'' Color Touch Screen |
| POWER SUPPLY | 230 V AC, 50/60 Hz (110 on request) - 2,2 kW |
| TYPE | Desktop |
| ARGON NOZZLE | Yes |