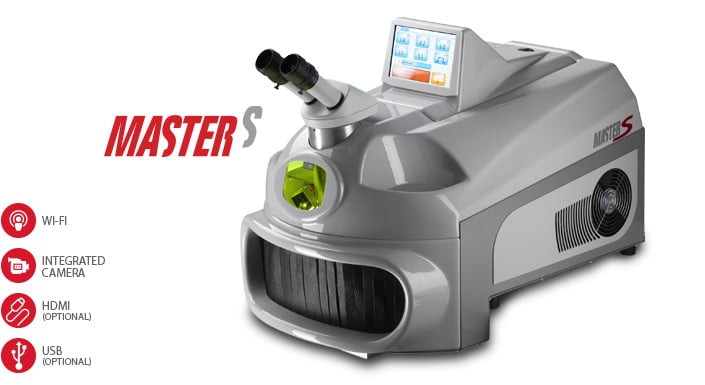 Master S is a particularly suitable laser machine for those who work with silver, but also other precious metals
One of the most recent developments of Elettrolaser, the Master S inherits all the product innovations of its predecessors. It was developed mainly to satisfy the needs of combining high working power with long lamp life.
Thanks to the new lamp and innovative technology that offers digital setting of the powers in play, Elettrolaser now produces
the best laser on the market

with very low impact in terms of maintenance.

A large welding chamber, integrated webcam with display of the operations directly on the 7" LCD display, WI-FI connection for entry of the machine in a network, or parametrization of the machine by remote control complete this picture of an innovative welding laser.

The machine is able to reach an energy output of 130 J for the maximum flexibility of use in small workshops or in small to medium-sized factories with continuous production.
MASTER S 80
MASTER S 100
MASTER S 130
LASER SOURCE AND WAVE LENGTH
Nd: YAG 1064 nm
AVERAGE POWER
75 W
95 W
100 W
PEAK POWER
5 kW
5 kW
6,5 kW
ENERGY
80 J
100 J
130 J
IMPULSE TIME
0,1 to 16 ms
0,1 to 20 ms
0,1 to 20 ms
PULSE FREQUENCY
0,5 to 30 Hz
SPOT DIAMETER
0,2 to 2,0 mm
SPOT SETTING
Motorized, 30 positions
WAVE PROGRAMS
Pulse Shaping 6 preset
MEMORIES CELL STORED
100
INTERNAL CHAMBER CONTROL
Joystick
EXTERNAL CONTROL
7'' Color Touch Screen
INPUT POWER
230 V AC, 50/60 Hz
AMPERE
10 A
TYPE
Desktop