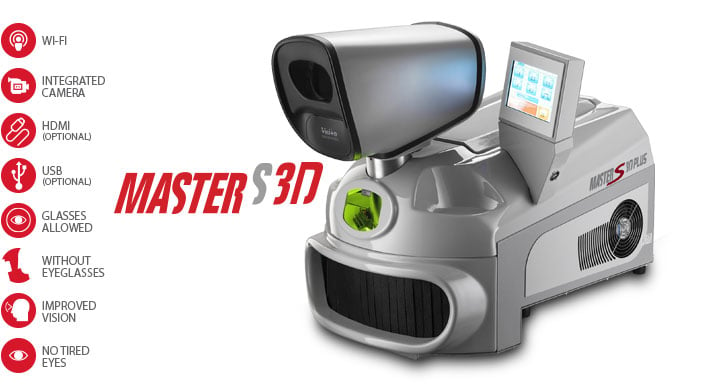 Master S 3D is the laser welding machine that offers a wide stereoscopic view of the welding area
With the innovative stereomicroscope, without ocular, it is possible to have a real 3D vision in high resolution color, improving operator comfort by reducing eye fatigue.
Productivity is increased, favoring the movement of the head, the coordination between hands and eyes and the rapidity of actions, such as inspections on objects is facilitated, not having to align the eyes as with the classic ocular.
The main advantages of the 3D Vision are therefore:
Possibility to work for long welding shifts;
Weld with eyeglasses;
Better posture during use;
In the presence of multiple users, it saves time in operator change, not having to adapt the ocular with the interpupillary distance (as in the version with the binocular);
Less tired eyes;
Freedom in head movements, and the ability to move the eyes to view the image without losing the visual field.
Available in 80, 100 and 130 Joule, the MASTER S is equipped with an
enhanced lamp

that, in addition to improving the laser beam in terms of repeatability, also increases its lifetime.

Allows to weld all precious metals, such as gold, yellow gold, silver, palladium, in addition to steel, aluminum, cobalt chrome, titanium.

Compact in its dimensions, it finds space everywhere, from the small goldsmith shop, to the dental laboratory to the large industry that needs to optimize spaces.

In the S version it is equipped with SMOOTH SPOT technology which allows greater accuracy of the diameter of the shot and greater homogeneity of the energy distribution during welding.
MASTER S 3D 80
MASTER S 3D 100
MASTER S 3D 130
LASER SOURCE AND WAVE LENGTH
Nd: YAG 1064 nm
AVERAGE POWER
75 W
95 W
100 W
PEAK POWER
5 kW
5 kW
6,5 kW
ENERGY
80 J
100 J
130 J
IMPULSE TIME
0,1 to 16 ms
0,1 to 20 ms
0,1 to 20 ms
PULSE FREQUENCY
0,5 to 30 Hz
SPOT DIAMETER
0,2 to 2,0 mm
SPOT SETTING
Motorized, 30 positions
WAVE PROGRAMS
Pulse Shaping 6 preset
MEMORIES CELL STORED
100
INTERNAL CHAMBER CONTROL
Joystick
EXTERNAL CONTROL
7'' Color Touch Screen
INPUT POWER
230 V AC, 50/60 Hz
AMPERE
10 A
TYPE
Desktop