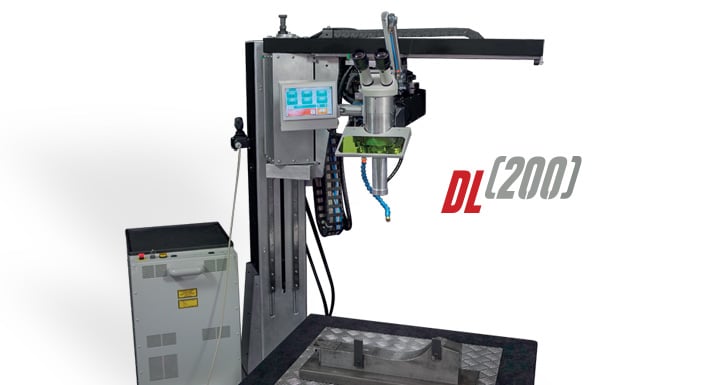 DL 200, the new laser welding machine for repairing of molds, dies and large objects
The Dynamic Laser 200 is a 3 arms motorized (X-Y-Z) laser system controlled by a joystick which guarantees extreme precision of movement.
Further 3 manual movements allow:
The inclination of the welding arm;
Rotation of the head;
The rotation of the Z axis on itself.
This permits to position the laser in positions difficult to reach and to work on pendants and circular planes.
This innovative laser welder allows you to repair, restore
medium/large objects,

such as molds for plastic materials, molds for prototyping (up to 1000x1000 mm), special equipment for processing plastic, sheet metal, etc.

It is possible to weld with the use of filler materials and repair manufacturing and wear defects.

The double in-line resonator, designed and developed entirely by Elettrolaser, is the only system on the market today capable of ensuring the real delivery of the 200 J declared while keeping the quality and intensity of the laser beam stable for the duration of the process.

To improve its mobility and transport, the welder is positioned on pirouetting wheels equipped with brakes and stabilizers.
Furthermore, it is supplied with an integrated cylinder holder that allows to use gas Argon, when welds need the complete absence of porosity.
| | |
| --- | --- |
| | DL 200 |
| LASER SOURCE AND WAVE LENGTH | Nd: YAG 1064 nm |
| AVERAGE POWER | 140 W |
| PEAK POWER | 10 kW |
| ENERGY | 200 J |
| IMPULSE TIME | 0,5 to 20 ms |
| PULSE FREQUENCY | 0,5 to 30 Hz |
| SPOT DIAMETER | 0,2 to 2,0 mm |
| SPOT SETTING | Motorized, 30 positions |
| WAVE PROGRAMS | Pulse shaping 6 preset |
| MEMORIES CELL STORED | 100 |
| INPUT POWER | 230 V AC 50-60 Hz 1ph |
| MAX ABSORBED POWER | 4,4 KW |
| XYZ AXES STROKE | x=500 mm / y=412 mm / z=600 mm |
| AXES PILOTING | Motor by joystick |